It's hard to truly appreciate how busy a care provider is during each shift without looking at their entire day. Take just five minutes. Sit and watch someone who is juggling between patients, collecting insurance information, verifying patient ID, or going from one room to the next delivering medications. My recent observation has been a hurried group of professionals trying to get to each scheduled service, knowing that even a small delay will impact the rest of their day. Not only will it impact their day, but their patient's day as well.
I transitioned from clinical practice into healthcare management about twenty years ago and it seems that there has been continual pressure to do more with less, increase efficiencies. Sadly, with this what we've typically seen is loss of personalization. Don't get me wrong, I don't mean that care is not individualized, because that is not what I'm talking about. I'm talking about person centered care, that swinging pendulum is now bringing us back to what is important to patients, personally. It has become a mandate from CMS.
Person centered care is not just about giving people whatever they want. It is about taking into consideration individual values, social situations, family dynamics, and needs; seeing the person as an individual, and working together to develop appropriate plan of care. In part this represents informed decision making, sharing the decisions with the patients and/or families. It is as much about the way professionals and patients think about care and their relationships as the actual services available.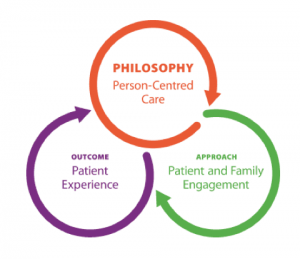 Being able to meet patient's needs in a manner that best suits them requires change on the caregiver's part. It requires the caregivers to slow down and consider the aspects of person's life that are important, to begin to partner with patients as we've not traditionally done in the past.   This requires the focus to be on the patient's preferences and facilities that have fully implemented have seen benefits via the patient satisfaction surveys. Some practitioners are calling this a paradigm shift. The challenge to see things from the patient perspective has never been greater.
Back in the 60's, Joni Mitchell had a big hit with lyrics singing "I've looked at life from both sides now". I challenge you to challenge yourself. Take the time to observe a patient as they go through your healthcare system and understand what their experience is like as they get services. Try to truly get the perspective of the patient. It surprised me when I did this and found that the majority of caregivers I encountered were rushed. They were often times task oriented and focus was completion of those tasks. This leads to depersonalization. Do take time to look at care from the patient's perspective. Both sides.